The Ultimate Gluten Free Flatbread with chili oil spread
The ultimate Gluten Free Flatbread with chili oil spread: The Ultimate Gluten-Free Flatbread with chili oil spread: If you eat this flatbread you will be glad that you became intolerant to gluten and discovered this gem. No, I am not kidding, the first time I made I made it by chance. I was trying to make tandoori roti but ended up making this. But when I tasted this, I knew I had found something even better than tandoori roti. This is almost like the missi roti. If you add a bit of sugar to the dough it will be exactly like the missi roti.
I made one with chili oil, made one with minced garlic, one with onions and green chilies. You can change the toppings according to your likings.
Prep Time: overnight
Cooking Time: 30 minutes
Ingredients:
For the dough:
1.My homemade flour mix: 1 cup
To get the recipe for my homemade GF all-purpose flour, click the lick here: HOMEMADE GLUTEN FREE RECIPE
2. Rice flour: ½ cup
3. Shogrum atta (Jowar atta): ¼ cup
4. Yeast: 1/ ½ tsp
5. Sugar: 1 tbsp
6. Salt: ½ tsp
7. Olive oil: 2 tbsp
8. Water 1 cup to form a dough
9. Xanthan gum: 1 tsp
Toppings:
Nigella seeds:  1 tsp
Red chilli powder/paprika: 1tsp
Olive oil: 1 tsp
Salt to taste
Method:
Step 1: Knead the dough by adding a little water at a time. Keep adding the water as required. You may not need 1 cup of water to knead the dough, so do not add the water all at one go.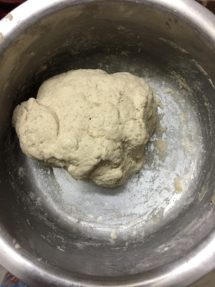 Step 2: Cover this dough and let this rest overnight. By morning it would have grown in size.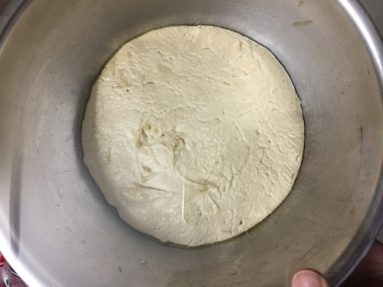 Step 3: Separate the dough into 3-4 balls. Now flatten the dough, and roll a big round pizza base like shape with the rolling pin/belan.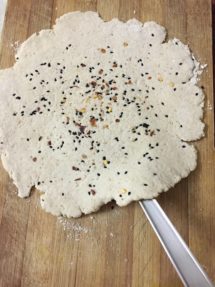 Step 4: Preheat the oven to the highest temp.
Step 5: On the flatbread, add the toppings. Nigella seeds, some salt, chili flakes (optional) and run the rolling pin again so that the seeds, etc get inside the flatbread easily.
Step 5: Reduce the temperature to 200C and place the flatbread on a silver foil on a baking tray and bake it for 15 minutes.
Step6: After 15 minutes, take the bread out, brush the bread with olive oil and paprika mixture. Put it back in the oven again.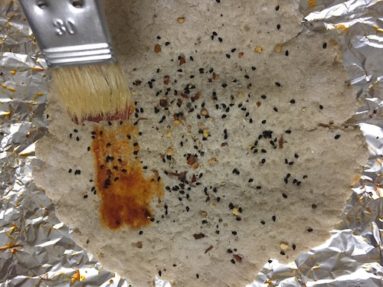 Step7: Bake at 200C for 5 minutes. The last 5 minutes, move the bread to the uppermost shelf of the oven and turn on the rotisserie. Or the option where only the top rods heat up. This will cook the top of the bread nicely.
Step8: Take it out, and enjoy it hot.
For more visit our INSTAGRAM POST