I had this in Thailand every single day.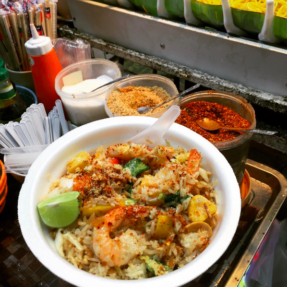 Since i am gluten intolerant this was the safest dish for me, i used to add loads of shrimp and thai red chilli to this rice, if you are non vegetarian then you must try this recipe with some pan fried shrimp. Yum!
Prep Time: 15 Mins
Cooking Time: 5 mins
Ingredients:
Cooked Rice: 1 cup
Fresh Pineapples/canned pineapples: Cut into cubes: 1/2 cup
Tofu: 1/4 cup. Cut into cubes and pan fried.
Green Onions/scallions: 3-4. Chop them coarsely
Onions: 1 small. Slice them thinly.
Red cabbage: 1/3 cup. Finely chopped.
Bell peppers. Green/red: 1/4 cup. Thinly sliced.
Soy sauce: 3 tsp
Vinegar: 2 tsp
Salt to taste
Lemon: 1/2
Sugar: 2 tsp
Sesame Oil (preferably) or any vegetable oil: 1 tbsp
Thai Red Chilli Powder: 1 tsp
Method:
Heat a pan, pour the oil, when the oil is hot, add the veggies and pan fried tofu. Cook them till the veggies turn golden, now add the salt, sugar ( 1 tsp), and cook for a few seconds. Add the soy sauce, vinegar. Mix well, now turn the heat low and add the rice. Toss them quickly, make sure everything is mixed properly. This should take 30-40 seconds, take them off the heat. Give it a good squeeze of lemon, sprinkle some sugar and dry Thai red chilli powder. Serve.