South Indian Guntur Mutton Fry
South Indian Guntur Mutton Fry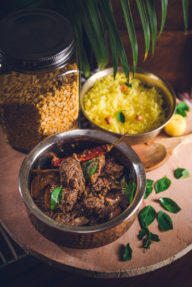 This dish is on the hotter side, so adjust the chilies according to your taste.
Cooking: 50 minutes -1 hour
Serves: 2-3 people
Ingredients:
Mutton or lamb: 400-500gms (cut into pieces)
Cinnamon Stick: 1 small
Peppercorns: 5-10
Bay Leaf (Tej Patta): 2
Coriander Seeds: 1/2 tbsp
Ginger garlic paste: 1 tbsp
Crushed Pepper: 1 tbsp
Onion: 3 sliced
Kashmiri Mirch Powder/Red Chilli Powder/Paprika powder: 2 tbsp
South Indian Garam Masala: 3 tsp
Coriander Powder: 1 tsp
Curry Leaves: 10-12 leaves
Coconut Oil: 3-4 tbsp
South Indian Garam Masala Powder Ingredients:
Your regular garam masala powder: 2 tsp
Star anise: half of one star
Peppercorns: 20 approx
Method:
Step1: Make the South Indian Garam Masala Powder: In your dry garam masala powder, add the ingredients mentioned and grind them in your grinder. Your South Indian Masala is ready. If the Garam Masala amount is more than what you would need for this dish, then you can put the extra masala in a sealed jar and store it for later use.
Step 2: Boil the Mutton/Lamb: In a pressure cooker, pressure cook the meat. Add the dry spices..peppercorns, bay leaf, whole coriander seeds, some salt ( 2 tsp), cinnamon, meat, and water and let this cook in the pressure cooker on low heat for 3-4 whistles. If you are cooking in the pressure cooker, cook your meat till its 80% cooked. After that remove the meat pieces and keep the broth.
Step3: Make the masala: In a pan, add the coconut oil, once the oil is hot add the sliced onions. Cook the onions till golden brown. Now add the curry leaves, ginger garlic paste, crushed pepper, chili powder, coriander powder, salt, let this cook on low heat for a minute.
Step4: Add the meat pieces to the pan, mix everything well. Add 2 cups of broth along with the meat. Add the South Indian Garam Masala Powder, mix well with the meat, cover the pan, let this cook on low heat for 10-15 minutes. The water will evaporate after some time, you will have to check the meat at this point. If the meat is thoroughly cooked, you can turn off the stove and serve this with plain dosa or rice.
My Take: I had mine with lemon rice.
For more visit our next Recipe