Gluten free Methi or Fenugreek Paratha Recipe
It's almost November which also means it's officially the paratha season for us. I kickstarted the season with this Methi paratha. It's green, spicy, healthy plus you can eat these with chai anytime, so when I make I try to make some extras. I have two for lunch and one with my evening tea. I think when it gets cold, it tastes even better.
Serves: 2
Prep time: 10-12 mins
Cooking Time: 5-6 minutes
Ingredients:
Fresh Fenugreek/Methi Leaves: 2 cups. Washed and chopped finely.
Green Coriander: 1 cup. Leaves chopped.
Green Chillies: 2-3, finely chopped.
Onion: 1. Finely chopped
Gluten-Free Chapati Flour (available easily in the market): 1 1/2 cups
Ajwain Seeds: 2 tablespoon
Salt to taste
Dry mango powder: 2 teaspoon
Any available pickle masala (optional, though it adds a great flavor to the paratha): 2 tsp
Coriander Powder: 1 teaspoon
Water to form the dough
Butter/ghee/*vegetable oil: to cook the parathas. *Vegans you can go with any oil of your choice.
Method:
Combine everything together and form a dough. Add water slowly, knead the dough for a long time. The more time you spend with the dough the elasticity of the dough will be better. That will later help you roll out the parathas better.
Make small dough balls.
Roll them like chapati with a rolling pin.
On a Tawa or a nonstick pan, cook the paratha.
Place the paratha in the pan when the pan is hot. Then after a minute or so, flip the paratha. Now add some olive oil/ghee/butter to the paratha. Start with one tablespoon. The paratha will turn brown the moment you add the oil/ghee/ Cook on low heat so that the dough cooks properly. Now flip the paratha, add some butter/ghee/oil to the other side too. Cook this side too, take the paratha off when it is golden brown or looks crisp and cooked. Do not overcook the paratha, we don't want dark brown color on it, just golden brown.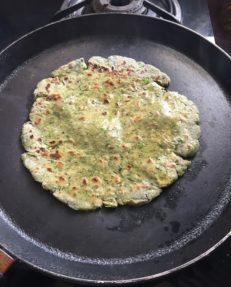 Serve with pickle or the green coriander chutney. You can find many chutney recipes in the chutney/dip section.
My take: I had my parathas with the green coriander chutney, some butter, a bit of jaggery and ginger tea. Oh, heavenly!
For more visit our INSTAGRAM POST
https://www.instagram.com/p/Ba5hiPGhDa-/?taken-by=glutenfreeindian17
For more Visit our GLUTEN FREE VEGAN RECIPE