Gluten free Coconut Pancakes
Gluten Free Coconut Pancakes:
Trust me, friends, you're going to want these pancakes because they are fluffy, yummy, healthy, guilt-free, gluten-free and oh so simple to make.
Make these pancakes your new go-to lazy weekend breakfast. Top these Coconut Pancakes off with your favorite syrup, fresh whipped cream, fresh berries or a bit of lime zest for a delicious tropical-inspired start to the day.
Serves: 2 people
Prep Time: 5 minutes
Cooking Time: 10 minutes or less
Ingredients:
Coconut Flour: 1/4 cup
Brown Rice Flour: 1/4 cup
Baking Soda: 1/2 tsp
Salt: a pinch
Milk: 1/3 cup (if you have coconut milk that's even better)
Coconut oil: 2 tbsp coconut oil or you can use melted butter/4 cup coconut flour
Honey: 2 tablespoon
Vanilla: a few drops
Butter: For cooking
Method:
Lightly mix all dry ingredients together.
Add all wet ingredients to the beaten egg and combine well.
Mix the wet ingredients into the dry and stir until incorporated. Don't over mix.
If the batter looks too thick, thin with a little more milk. If it looks too thin then adjust the consistency by adding some more brown rice flour. It should be semi-thick but pourable. Taste and adjust sweetness as needed. In a hot nonstick pan, add a bit of ( 1 tsp) butter to coat pan.
Over low heat pour some batter ( a ladle full) and let this cook until bubbles begin to pop in the center of the pancake, remember too many bubbles won't form) this will take 2 minutes. But the pancake might need more than 2 minutes to brown at the underside. So keep an eye before flipping the pancake. Flip pancake and cook for an additional minute or so until golden brown. To serve, top with a drizzle of your favorite syrup.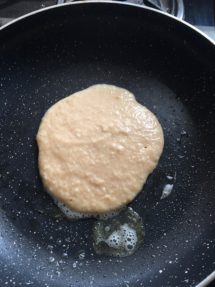 For more visit our next