You know i always thought baking was super complicated and when i used to eat gluten i couldn't even bake simple cakes and stuff, and now look at me making gluten free muffins and cakes as if i was born to do this. haha. Can't believe it's me who is baking now and baking such amazing things. I have totally surprised myself and this has given me so much confidence to experiment more. I made these muffins yesterday but it tasted even better today. I had kept them in the refrigerator and had them slightly cold in the evening with some black coffee. Oh it was heavenly! You can have these with some vanilla ice cream too, it would taste fab. Ok now lets bake, shall we.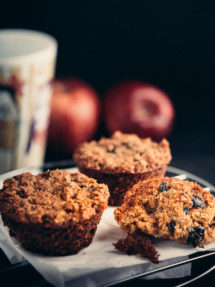 Serves: 4-5 muffins. ( I managed 4 big ones)
Time: 30 Mins
Ingredients:
Almond flour: 1 cup
Coconut flour ( Desiccated coconut): 1 cup
Cinnamon Powder: 3 tsp
Honey: 1/4 cup
Brown sugar: 2 tbsp
Raisins: Half cup
Salt: 1/4 tsp
Baking Powder: 1 tsp
Baking Soda: 1 tsp
Eggs: 2
Coconut oil: 1/4 cup or you can even use ghee ( According to Ayurveda, Ghee (clarified butter) is really good for your health so i don' mind using them for baking.)
Apples: 2. Grated.
Ghee or Oil: 1 tsp
Method:
Step1: Preheat the oven. 350F
Step 2: Cook the grated apples with  sugar and cinnamon powder:
Grate the apples, and remove the water from it. Squeeze the grated apple with your palms and remove the excess water.
In a pan, pour 1 tsp of coconut oil/ghee/olive oil, add the grated apple, 1 tsp cinnamon powder, 1 tbsp brown sugar and cook them for 2-3 minutes.
Step3: Mix the dry and the wet ingredients together.
Now in a big bowl, add the flours, baking powder+soda, salt, sugar (1 tbsp), cinnamon powder (2 tsp)+ cooked grated apple mixture + raisins.
In another bowl, mix the wet ingredients together: 2 eggs+honey+oil/ghee.
Now add the wet ingredients to the bowl.
Mix them well so that the wet ingredients get properly mixed with the flour etc.
Step4: line the muffin tray with some oil and pour the batter. Fill each cup properly, these muffins don't rise too much so you can actually fill each cup generously. Bake at 180-190C for 20-25 minutes until muffins are golden brown and toothpick comes out clean.
The muffins might take longer than 25 minutes too, when i bakes 3 cooked under 25 but the fourth one took 5-7 minutes extra. So keep an eye if you think it looks undercooked leave it for another 5 minutes or so.
Step5: You have to let the muffins cool down for atleast 20-25 minutes before you take them off the baking tray, else they would stick to the tray and crumble. I gave them almost 40 minutes rest before i took them off the tray. Patience pays so give them some time to cool down.
After they have cooled down properly, take them off the tray and serve.