VIETNAMESE ROLLS WITH LEFTOVERS
Vietnamese rolls with leftovers
However you decide to make these, they will come out super yummy each time. when you are thinking of stuffings make sure you put some sweet elements to it too, because a bite of sweetness is always great, i used mango for sweetness, you can add an apples if mango isn't available.
Prep Time: 10-15 minutes. Depends on how many things you wanna add or chop.
Cooking Time: None
Ingredients:
Rice Paper: 8-10
Capsicum: 1 sliced thinly
Yellow Bell Pepper: 1 sliced thinly
Coriander: a few sprigs
Red cabbage: sliced 1/2 cup
Mango: 1/2 cup chopped
Eggs: 2
Gluten Free Soy Sauce
Sweet chilli sauce ( a must ingredient)
Salt to taste
Method:
Step 1: Slice all veggies and fruit nice and thin. Keep them aside.
Step 2: Whisk the two eggs, add a pinch of salt and make an omelette. Slice the omelette too into strips.
Step 3: Soak the rice paper in water for a few seconds (10 -15 secs or follow the instruction on the package), take it out. Now the paper sheet would be soft, place them on your work surface. Start putting the sliced veggies, fruits, eggs in the centre of the sheet (You can use your imagination and place them in your own way, there are no rules here but make sure you place them in the centre so that you have enough space on the edges to fold them). Also you must sprinkle some salt, a few drops of soya sauce, and sweet chilli sauce. Now fold the sheet gently and make small rectangular package out of them.
** ( these steps example pics below have been taken from the spring rolls post, for spring rolls we take 2 rice paper per roll to make our rolls. But for this recipe, that is the Vietnamese Rolls recipe we will use only one rice paper sheet per roll).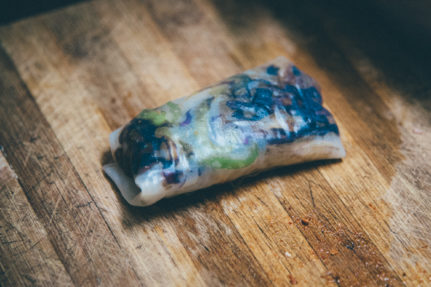 Step 4: Serve with sweet chilli sauce.
Visit my Recipe For How to make  Apple Raisin Cinnamon Muffins
Visit Instagram Page for More