Vegan Spinach and Tofu Curry Recipe
Vegan Spinach Tofu Curry Recipe, is my healthier take on Palak Paneer ( Spinach and cottage cheese). I have replaced paneer with tofu and trusts me it tastes fantastic.
Prep time: 1o mins
Cooking time: 15 mins
Total Time: 25 minutes
Serves: 2 people
Ingredients:
Spinach: 1 half bunch or 6-7 cups of spinach
Water: 4-5 cups
Paneer: 1-1/2 cups paneer (cubed into bite-size)
Tomato: 1 (finely chopped, this will make 3/4 of chopped tomato)
Green Chillies: 3-4 ( add more if you like your food spicier)
Onion: 1 thinly chopped
Ginger Garlic paste: 2 tsp ( take ginger and garlic, blitz in a blender with some water to make this paste)
Cumin Seeds: 1 tsp
Bay Leaf: 2
Paprika or Kashmiri Mirch Powder: 1 tsp
Dry Mango Powder: 2 tsp ( If you don't have the mango powder you can use lemon juice)
Garam Masala Powder: 2 tsp
Coriander Powder: 2 tsp
Turmeric Powder: 1/2 tsp
Olive oil/ any vegetable oil: 2 tbsp
Salt to taste
Method: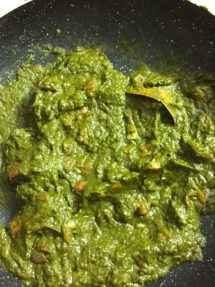 Step 1:First blanch the spinach, this helps to keep the spinach color bright. Boil about 6 cups of water in a saucepan, and let the spinach boil for 1 minute. Drain the water and put the spinach in ice-cold water for about 2 minutes. Remove from water and let this cool down a bit.
Step 2: After the spinach has cooled down a bit, blitz this in a blender and make a puree.
Step 3: Pan-fry the tofu cubes in a few drops of olive oil or any vegetable oil. Keep it aside.
Step 4: In a nonstick pan, add 2 tbsp oil, when the oil gets hot add the cumin seeds & bay leaves. After cumin seeds crack, add the onions, green chilies and stir fry for a few minutes till the onions turn golden brown. Now add the ginger-garlic paste, mix well. Add the tomatoes too. Let this cook for 2-3 minutes.Tomatoes should be tender, not mushy. Add coriander, turmeric, red chili powder, salt, dry mango powder and let this cook on a low heat for a minute or so. Now add in the spinach puree and mix everything well. let this cook on low heat for 4-5 minutes. Keep stirring occasionally.
Step 5: Now you can add the tofu to the spinach puree. Fold them properly. Add the garam masala powder. Mix everything well. let this cook for another minute or two and your dish is ready. Serve with steamed rice and some raita*.