This chutney has an interesting story, a few months ago i had gone to Mahabalipuram in Tamil Nadu( South India), and since i am gluten intolerant Tamil Nadu was heaven for me.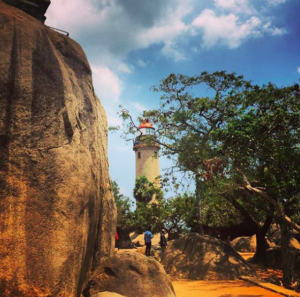 South Indians hardly consume gluten, all their local meals are gluten free and extremely tasty. Hot but yummmmmm! If you have travelled to South India you must know what i am talking about. So i was staying at this fancy hotel, known for its awesome food and very famous restaurants. For breakfast i ordered Dosa. Since i was in South India i had to start my trip with Dosa. Anyway i took my first bite with a bit of the red tomato chutney and that bite changed my life forever. I can't even begin to tell you how great that chutney was. It was packed with flavours, usually all chutneys are extremely flavourful, but this was something else. Hot and tangy and sweet and salty, i overate just because of that chutney. Next day again i ran to the restaurant, ordered the same thing and this time i overate the chutney, had it like a meal..yea i know don't judge me. The breakfast was complimentary…lol..lol.  I asked them to give me some clue about the secret spice that they had added to the chutney but they didn't give me the trade secret. I came back to Delhi, still hungover from the chutney and decided to crack the recipe. I took me many bags of tomatoes to crack it but i think i managed to make something very very similar. Not exactly the same but similar. I think the red chillies that we get in North India are not as hot and sweet like the South Indian chillies. So here i am sharing my trade secret with the world, i really hope you try making this because i am sure you will love it, you can use it as a dip, a sandwich spread out eat it like tomato pickle with your meals.
Time: Under 10 mins
Ingredients:
Red Tomatoes: 4-5 . Cut in chunks
Tamarind Paste: 2 tbsp ( you can find readymade tamarind paste in the market. If you can't then soak tamarind in water for half an hour. remove the water and blitz the tamarind in a mixer)
Curry Leaves: 1/4 cup
Brown sugar: 1 1/2 tbsp
Dry Red Chillies Paste: 3-4. (I used 5 because i like it hot). Soak them in water and make a paste.
Salt
Black mustard seeds: 2 tsp
Coconut or olive oil: 3 tsp
A blender/mixer
Method:
Step1: Cook the tomatoes:
In a pan, add 2 tsp oil, chopped tomatoes and cook for 2 minutes. When the tomatoes soften a bit, add salt+sugar+ red chillies paste+ tamarind paste+ 3/4 cup of water. Cook for about 3-4 minutes. Turn off the heat and let this cool down.
Step2: Blitz in a blender:
Now take this mixture and blitz in a blender. This will form a nice paste, add a bit of water if the paste is too thick. But do not add a lot of water, we don't want a watery chutney.
Step3: Tempering
In a pan add 1 tsp oil, when the oil is hot, add the mustard seeds, handful of curry leaves, one dry red chilly. let this cook for about 30-40 seconds, when the mustard seeds stop fluttering, turn off the heat. make sure you don't burn the curry leaves. Take this tempering mixture, pour on the tomato chutney and mix well. Your chutney is ready.