Pan-Fried South Indian Rice Dumplings
Pan Fried South Indian Rice Dumplings
Prep Time: 3-4 Hours
Cooking Time: 15-20 minutes.
Ingredients:
For dumplings:
Rice: 1 cup
Water: 1 cup
(To measure water use the same cup you used to measure rice)
For tempering:
Coconut oil – 1 tbsp
Mustard seeds – 1 tsp
Urad dal – 1 tbsp
Chana dal – 1 tbsp
Green chilies – 3-4 finely chopped
Curry leaves – 1 sprig
Cumin seeds (optional)- ½ teaspoon
Onions: 1 big or 2 small finely chopped
Salt to taste
For the stir fry:
Curry leaves: 10-12
Black Mustard seeds: 1 tsp
Coconut oil: 1/2 tbsp
Paprika powder/red chili powder: 2 tsp
Method:
Step1: Grind the rice.
Soak rice 3-5 hours. Drain the water from the soaked rice. Grind the rice with water. Grind to a really smooth fine paste. Set aside.
Step 2: Make the rice dumplings.
Heat oil in a pan and splutter mustard seeds, urad dal, cumin seeds & chana dal. Add chilies, onions, curry leaves and salt. Sauté for 2-3 minutes, till golden.
Now add the ground rice mixture to this pan and mix them well. The rice mixture will immediately thicken up into a mass of dough.
Let this dough warm a bit, but make sure it doesn't cool down. When the dough is still warm you need to start making the rice dumplings.
Grease your hands with oil and take a small size ball of dough. Press the dough a little to form elongated (oblong) shaped dumplings.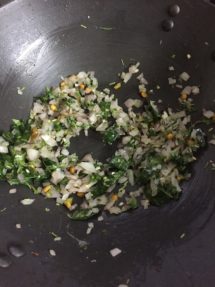 Step3: Steam the dumplings.
Heat water in an idli pot (If you don't have the idli pot you can even use the dumpling steamer) and let the water boil. Place the dumplings on an idli plate or any flat plate and steam it for 15 minutes on a medium flame.
Serve the dumplings with coconut coriander chutney.
Visit For Coconut Coriander Chutney recipe
Step4: Stir fry
In a hot pan, add oil, when the oil is hot, add the black mustard seeds. Let the seeds pop, now add the paprika powder and the steamed idlis to this oil. Mix the idlis properly. Let this cook for a minute or so and the dish is ready.
For more visit our next Recipe