This is my mum's recipe and my most favourite chutney in the world. This chutney reminds me of home, my childhood, summer and long school holidays. Ahh memories!
Prep Time: 5 mins
Ingredients:
Raw mango: 1 cup chopped
Dry Red Chillies: 3. Soak them in water for a few minutes.
Garlic Cloves: 5-6
Salt to taste
Water
Method: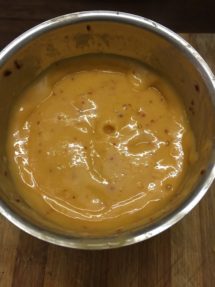 Put everything in a blender, add some water, just enough to wet them and blitz everything into a paste. It should not be runny, a smooth paste like consistency is what we want. Eat this chutney with kebabs, chips, sandwiches, dosa.. with anything actually. Goes well with everything. You can even use this to marinate tofu or paneer.