No Bake Vegan Pineapple & Dates Energy Bar
No Bake Vegan Pineapple & Dates Energy Bar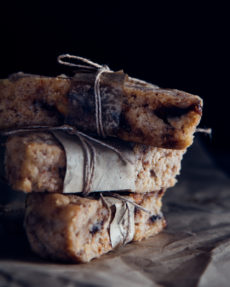 Prep Time: Under 10 mins
Serves: 2
Ingredients:
Dates: 1 cup. Pitted dates. Chopped.
Almonds: 1 cup
Coconut Oil: 2 tbsp
Desiccated Coconut: 1/2 cup
Vanilla Essence: 1 tsp
Pineapple: 1/4  cup. Chopped. ( I used canned pineapple)
Method:
Soak the dates in hot water for about 10 minutes.
Drain dates, and now add dates, almonds to a blender or a food processor. Process the almonds, and dates until very fine.
Now add the desiccated coconut, coconut oil, vanilla to this. Blitz just once. Take the mixture out and now press the mixture into a dish lined with greaseproof paper, then let them set in the fridge for about 2-3 hours until this has set.
Later remove the bars gently from the dish and cut them into pieces. Store in an airtight container, this stays good for days.
Tip: while cutting the bars, use the sharpest knife also dip the knife in hot water for a few seconds this helps in cutting the bars easily.
For more visit our Next Recipe