I've been on a vegetable-packed coconut curry kick lately, this particular dish for example is not like the regular Thai Yellow Curry, this dish is denser and a bit sweeter…..
Serves:1
Ingredients:
Small onion-1
Garlic- 4-5 cloves
Turmeric powder: A pinch
Coriander seeds:5-6
Dry red chillies whole: 2-3
Baby Corn- 4-5 baby corn
Carrot (half): thinly sliced
Broccoli: mall chunks half cup
Cauliflower: small chinks half cup
Mushroom (Optional)- 4-5
Coconut Oil: 4-5 tbsp
Coconut Milk:200 ml
Palm sugar/brown sugar:1 teaspoon
Salt: According to your liking
Make the spice mix:
Dry roast the onions, garlic cloves. ( In a hot pan, put the cut onion, garlic cloves, char them till they turn light brown)
Dry roast the turmeric. ( For a minute or two)
Dry roast the coriander seeds, dry chillies.
Let them all cool down then blitz these in the grinder. The paste would look something like this: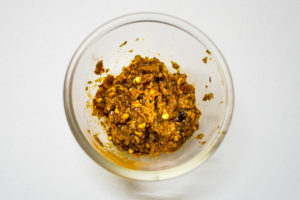 In a pan, pour 1-2 tbsp coconut oil, brown the broccoli. Keep it aside.
In the pan, pour some coconut oil (2-3 tbps) add the spice paste and half tsp palm sugar or brown sugar to this, mix them all very well.
Now add the veggies, mix them all very well. Cook them for 3-4 minutes, and then add the coconut milk and some salt. Turn the heat down and let this cook for 8-10 minutes. The curry will thicken as it cooks, keep stirring the curry so that it doesn't stick to the pan. Add the cooked broccoli now, cook for another 1-2 minutes, remove the pan from stove. Serve this dish with rice/ rice noodles or sticky rice.