Glutenfree sandwich bread:
Ingredients:
Flour mix:
Tapioca Flour: 1 cup
Sorghum/ Brown rice Flour: 1 cup
Cornflour: 1  cup
Salt: 3 teaspoon
Sugar: 1 tablespoon
Baking powder: 1 tsp
———–
For yeast solution:
Yeast: 1 tablespoon
Sugar for yeast solution: 2 teaspoon
Warm water: 1/4 cup
———-
For flax eggs solution:
Flax seeds powder: 3 tablespoon
Warm water: 9 tablespoon
———-
Apple cider vinegar: 1 tablespoon
Egg white: 1 egg (optional, if you eat eggs do add the egg white)
Butter: 1/4 cup
Sugar: 1 tablespoon
METHOD:
Step 1: Make the flours mix. In a big vessel, add in the flours, salt, sugar, baking powder. Mix them well.
Step 2: Make the yeast mix. In warm water (not hot), add yeast, sugar. Mix well, cover it and set aside for 5-10 mins. It will be ready to use after you see yeast form foam. If the form doesn't happen then yeast is old or not active. In that case you may have to use another yeast.
Step 3: Make the flax egg solution. Mix flax powder with warm water and set aside for 10 mins. After 10 mins whisk it nicely until it becomes a bit frothy. You can add 1 or 2 egg whites at this point if you like. Also add apple cider vinegar, softened butter and some sugar. Whisk them nicely using a stand mixer or a hand blender.
Step 4: Time to add the wet ingredients to the flour blend. Add yeast solution and the flax egg solution to the flour blend. Blend them very well. The more you  blend the lighter the bread will become.
Step 5: You may need to add more water if the dough feels too dry. You need cake batter like consistency almost. Add the water 1 tbsp each time, no need to add a lot of water at one go. We don't want to make the dough too wet. Make sure the consistency is like cake batter consistency but a bit thicker.
Step 6: Transfer the bread dough to the bread baking tin. Make sure you have lined the tin generously with butter or oil.
Step 7: Let this rest for 30mins-45 mins.
Step 8: The bread dough would have doubled in size after 45 mins.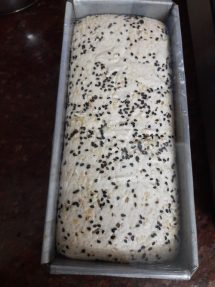 Step 9: Preheat the oven @180C
Step 10: Time to bake at 180C for 40-45mis. The time may vary, do check the bread after 35mins or so. Every oven behaves differently, it take 40 mins in my oven to bake this loaf.
Step 11: Take out the bread and let it rest for sometime, else it will break.
Step 12: Take the bread out and let it it rest for an hour before you cut.
Step 13: The bread is ready for you to enjoy.
Find easiest glutenfree bread recipe here,
also find my favourite bread recipe here.