Glutenfree bao buns:
I tried making bao for the first time and it was easier than making chapatis, seriously!I tried making bao for the first time and it was easier than making chapatis, seriously! I have the steps on my Instagram (highlights) profile with images, you can take the step by step help from there.
Ingredients:
For yeast prep:
Warm water: 1/2 cup
Yeast: 2 1/4 tsp
Sugar: 2 tbsp
———
GF all purpose flour: 2 1/2 cup
Oil: 3 1/2 tbsp
Milk powder: 3 tbsp
Baking powder: 1 tsp
Salt: 1 tsp
---
Method:
For the steps, you can click here.
Get the yeast ready- in a small bowl, add warm water (NOT HOT ELSE YEAST WILL DIE)+sugar+ instant yeast: cover for 10 mins.
In another bowl, add flour+ milk powder+baking powder+ salt.  Mix well.
Now 10 mins are up so time to add yeast to the flour mix also add oil.
Time to knead the dough: while kneading if the flour feels very dry, add some water. After the dough comes together nicely (should look like poori batter, soft and shiny), apply some oil on dough and cover it to rise. This may take an hour or more.  The dough should double in size, if it hasn't then give it some more time to rise.
Now cut the dough into 8 equal pieces almost like how you cut pizza slices.
Time to roll these pieces into circles, the circle needs to be almost taco size or poori size. But make sure the circles are not too thin. It needs to be a bit thick.
Now you have the circle, fold the circle from the middle and insert a piece of butter paper so that the dough ends don't stick to each other.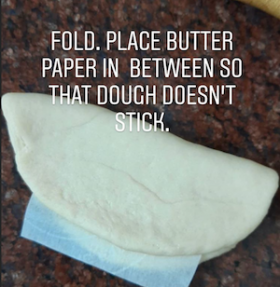 Take the steamer (if you don't have a steamer, try using the  idli maker) line it with butter paper, place the folded buns and steam them for 12-14 mins. Do cover the steamer.
After 12 mins check the bao buns, they should look fluffy and soft.
The baos are done.
Now fill the bao with your favourite filling and enjoy. If you want to see what i filled then check out  my Insta Highlight here.