Gluten-free sponge cake
Gluten-free sponge cake for any party:
Saw this #recipe on Youtube and tried the recipe at home. I wanna say thanks to chef Michael Lim who originally created this recipe.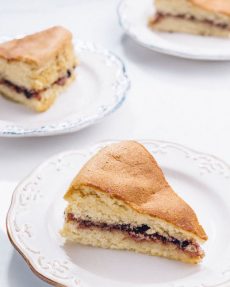 Ingredients:
Eggs: 3 egg whites
Eggs: 3 egg yolks
Apple cider vinegar: 1 tsp
Sugar: Powdered: 100 gms
Rice flour: 65 gms
Corn flour/corn starch: 25 gms
Salt: a pinch
Milk: 30 gms
Oil: 22 gms
Vanilla essence: 4-5 drops
METHOD:
Make the cake batter:
Whisk together with an electric whisker, the eggs, vinegar, and sugar.
It will take 4-5 minutes for the eggs, vinegar, and sugar to form stiff peaks.
Add the egg yolks, fold the yolks in nicely. Do not whisk.
Time to add the flours.
Add the rice flour slowly to this mix. Fold the flour in. No need to add the flour at one go, do it in installments.
Now add the cornflour. Fold the cornflour in.
Add the salt.
Now mix the milk, the vanilla essence, and the oil together in a small bowl. Fold this mixture in the cake batter.
Transfer the cake mix to a greased cake pan. Preferably the one with a removable rim and base.
Preheat the oven to 150C.
Bake at 150 C for 30 minutes.
After 30 minutes increase the temperature to 170C. Bake for 5 minutes.
Plz, note it may take more time too. This totally depends on your oven, different ovens take different baking time. The trick is when you see the top browning, think the cake is. nearly done.
Visit For GLUTEN FREE CHRISTMAS CAKE RECIPE
Please subscribe us on youtube for more related Gluten-free Recipe