Easy Gluten-Free Fish Cake:
Easy Gluten-Free Fish Cake
Again, just like my many other recipes, even this one doesn't require much cooking skills. I have tried to keep it super simple and basic so that anyone can cook.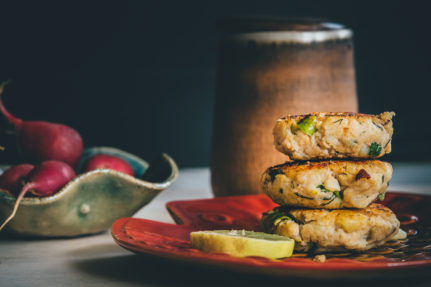 Prep Time: 1 hour. This includes the fridge time.
Cooking Time: Under 15
Ingredients:
Any white fish fillets ( I used Basa): 400 gms.
Boiled Potatoes: 2
Dill: a few sprigs
Fresh Coriander Leaves (Chopped): a handful
Green Chillies: 2 Finely chopped
Carrom seeds: 1 tsp
Lemon Juice: of 2 lemons
Salt to taste
Crushed Pepper: 1 tsp
Olive oil/ any vegetable oil: 1 tbsp
Method:
Step 1: Wash and chop the fish so well that it becomes almost like mincemeat.
Step 2: Mash the boiled potatoes.
Step 3: In a bowl, mix the fish mince, potatoes, chilies, dill, lemon juice, salt, pepper, carrom seeds, coriander together. The consistency should be dough like so that you could roll them into balls.
Step 4: After you have combined everything well, time to make small balls. The size should be around a regular burger patty. Make the balls and press slightly with your hands so that they become slightly flat like a burger patty.
Step 5: Place these patties in the fridge for half an hour to an hour, this way they would firm up.
Step 6: Cook them over medium heat on a nonstick pan till both sides turn brown.
Step 7: Serve this with a squeeze of lemon and some ketchup or mustard sauce.
For more visit our next