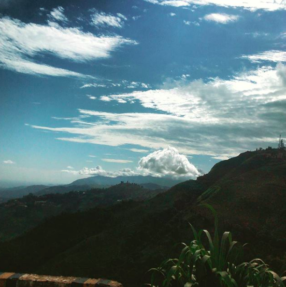 Last year I had the opportunity to travel to Darjeeling's various tea estates. Since I love Darjeeling tea I bought so much tea that my stock isn't over yet. Haha! Making this tea is no rocket sciene actually; everything is in the ratio of 1. For example, for 1 cup tea, you need 1 cup water, 1 teaspoon tea leaves, 1 tsp sugar and 1 teaspoon milk. Simple.
Time: 10 minutes
Serves 1.
Ingredients:
Water: 1 cup
Long leaf tea leaves: 1 tsp
Sugar: 1 tsp ( Adjust sugar according to your taste)
Milk: 1 tsp  ( If you like more cream, adjust accordingly)
Boil water in a saucepan, when the water starts bubbling time to add the tea leaves. Cover the pan and turn the heat off immediately. Let this sit for 5-7 minutes. The leaves that are floating on top will settle down to the bottom eventually. Come after 5 minutes, if you see the tea leaves have settled to the bottom, it's time to heat the tea again for a few seconds because the tea must have gone cold in the process.
Do not boil, just heat them for 30 -40 secs.
Time to strain the tea with a tea strainer in the cup, add the sugar and milk. Mix well, and enjoy your Darjeeling tea.