Babka inspired chocolate chip glutenfree bread:
I don't know a lot about this bread except the fact that it looks and it tastes heavenly. Babka means "little grandmother," in Ukranian, Russian and Eastern European Yiddish. For years babka has been a tradition in Jewish baking.  Now this bread is loved by people from all over the world and i am one for them. This decadent bread babka inspired bread is for the true chocolate lovers. If you really want to take it to the next level, have it with some melted butter and coffee. YUM!
Ingredients:
Any good quality bread flour mix (if you make GF bread at home, use the same bread  blend) : 3 cups
( You can buy the brand I use, I  have experimented with many and this turned out to be the best so far). Check it out here.

Yeast: 1/2 tbsp dry yeast or fast-acting yeast
Sugar: 1/2 tbsp
Salt: 1 1/2 tsp
Chocolate syrup: thick syrup (Melt GF chocolate compound with a 1 tbsp butter in the microwave or you can use Hershey's chocolate syrup)
Chocolate  chip: 1/2 cup
Warm milk: 1 cup
Method:
Take a container, add the yeast, sugar and pour warm milk (1/2 cup). Mix it, cover it and leave this aside for 10 mins. After 10 mins if you see froth being formed, then the yeast is active and good to use. But after 5 mins if you see nothing then the yeast is not good. You might have to change the yeast in that case or your milk maybe not warm enough. This is an important step so make sure the froth is formed.
Now in another vessel, add the flour,  salt.
Add the yeast mix to the flour. Mix them well. Knead the flour, you will have to add more milk to it. Knead till it forms a soft and sticky dough. PLZ NOTE THE AMOUNT OF MILK MAY VARY..SOME FLOUR MIX WILL USE MORE MILK AND SOME MAY USE LESS MILK. You add the milk till you see a nice, soft and sticky dough. The dough can't be too stiff else you would get an undercooked load.
Cover  the container with cling film and leave it in a warm place to rise. Wait till the dough has doubled in volume.
Come back after you see the volume has doubled.
Now take the dough, knead it again but not very vigorously.
Now roll out on a lightly floured counter. Smear it with chocolate syrup and sprinkle the chocolate chips generously. After this, start rolling like a tube. See pic,
8. Then make a slit in the middle. See pic,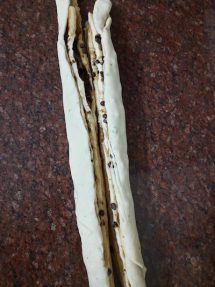 9. Hold the two halves of dough against each other so the cut sides are facing in, and twist into a decorative loaf. Place in buttered, parchment-lined loaf pans, cover with a damp towel, and allow to rise in the off oven for 2 hours.
10. Preheat the oven @180C for 10 minutes.
11. Brush the  bread with egg yolks or with milk.
12.  Bake  on the middle rack @180C for 40-45  mins.
13. Babka bread is done. Let it cool down on the cooling rack.
Photography  and styling done by, TheHeatland.in