Authentic Pad Thai Rice Noodles with Shrimp in Tamarind sauce
I love this dish and eat it all the time. I travel to Thailand a lot, but only this time I realized that Pad Thai in Thailand is quite different from the Pad Thai in India. We do not make the sauce from scratch; we use the Pad Thai sauce that we buy at the supermarket and when you suffer from Gluten Intolerance the option of buying sauce from the supermarket goes out of the window and you have to make almost everything in your sanitised kitchen, but the good thing about any homemade sauce is you can control the sugar and the sodium content, making any sauce at home is far more healthier than buying in a jar. And this one is actually very simple, its easier than making an omelette, trust me on that one. So here is the recipe, i am letting out the secret so please make me proud 🙂
Ingredients:
Serves:2
For the Stir Fry:
Pad Thai Noodles: Rice noodles, pick the thickness you like. I like the broad ones.
Eggs: 2
Olive/ sesame oil: 3-4 tbsp
Green Onions: Don't chop them too fine. The broader the better.
Onions: Sliced (Half)
Capsicum: Thinly sliced 1
Yellow Bell pepper: Thinly sliced 1
Lemon: Half
Bean Sprouts: If you have this great, if you don't have this, then just cook without them.
Prawns: As many you like. I cooked 8 medium sized.
For the Sauce:
Tamarind paste: 3-4 tsp
Palm Sugar/brown sugar/ coconut sugar : 2 tsp
Soy sauce: Dark Soy (Preferably) 2-3 tbsp
Fish Sauce: 1 tsp (I don't like the fish sauce so i skipped this)
Sugar: 1tsp
Garnish:
Crushed Peanuts: 2 tbsp
Sugar: 1 Tbsp
Thai chilli powder(Preferably. They taste yum. Don't have a lot of heat, they are slightly sweet and hot/ Indian dry red chilli flakes.
Method:
Make the Sauce:
In a pan, pour the tamarind paste, the palm sugar, soy, the white sugar, a bit of water. Mix them all together, let them cook for a minute, when you see the sauce bubbling take them off the heat.
Prepare the Stir Fry:
In a hot pan, pour some oil, then throw in the shrimps, let them cook for sometime, when you see them turning brown, you move them in a corner of the pan and now you throw in your two beaten eggs. Scramble the eggs that is keep stirring them so that they break down.
When the eggs get cooked, time for you to add the veggies and salt.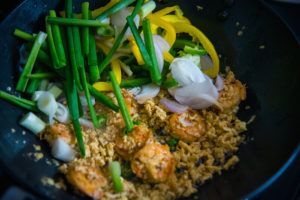 Stir fry them for a minute, then add the sauce.
Mix them well. Your noodles are almost ready.
Squeeze some lime juice, throw in some peanuts and red chilli flakes.
Serve with more chillies and sugar. YUM!